Buy-Sell-Trade
EIDXA's items for sale or trade page. Please contact the webmaster to post your ad.



---
For Sale
Antenna Analyser, Palstar ZM-30
de W3ACO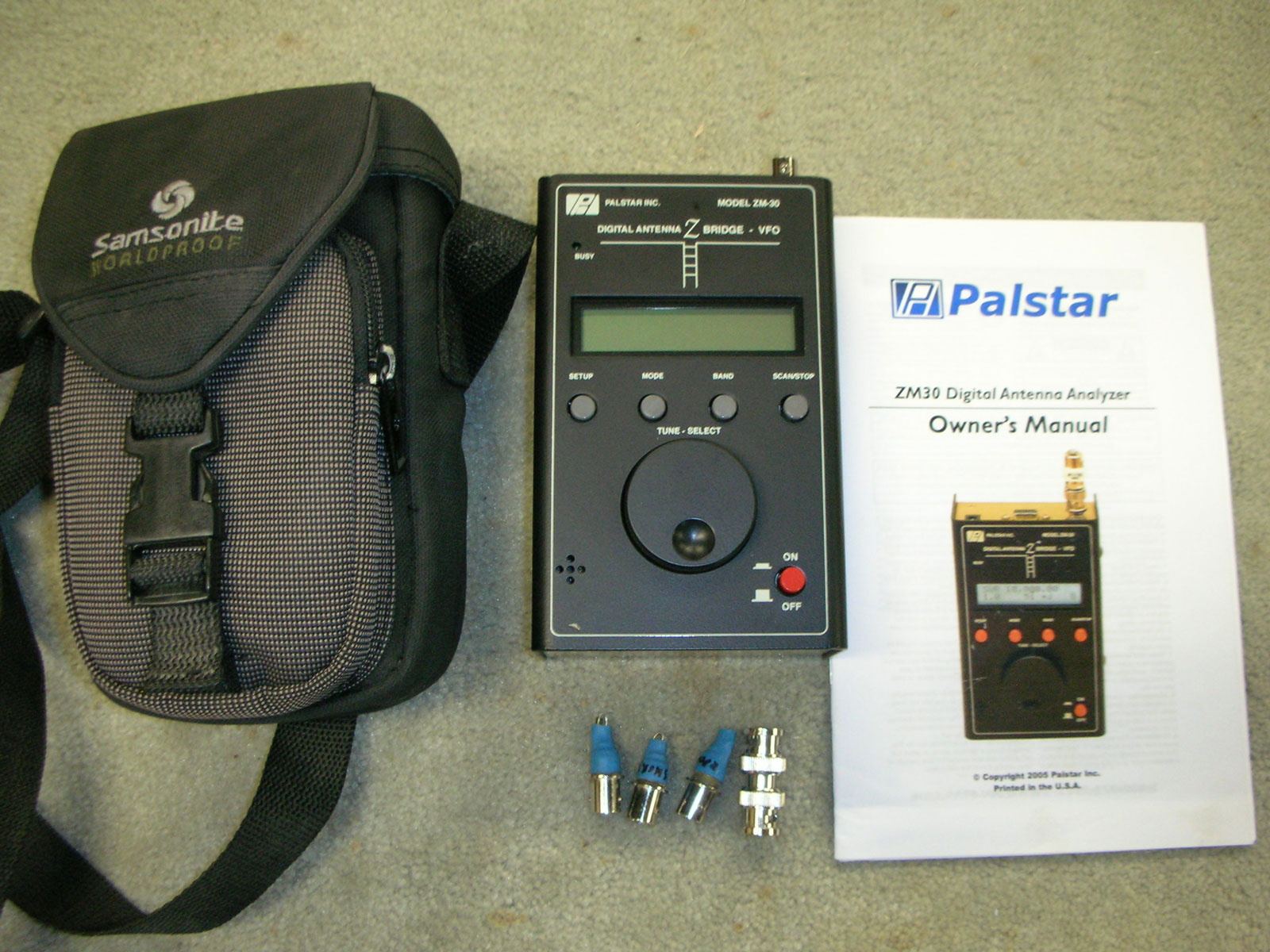 (Click on the picture for a larger version...)
Antenna Analyser, Palstar ZM-30. Software version 6.9. 1-30 MHz, high resolution to 1 KHz. Uses 8 AA batteries, measures VSWR, capacitance, inductance, can be used in VFO mode as a signal generator. Comes with calibration loads, custom case and manual.
I am selling it because I have an analyser that goes through 2 meters.
$150.00.
Contact:
W3ACO
Rich Haendel
email: rhaendel@q.com
(319) 331-6805



---
For Sale
ACOM 2000A Amplifiers
ACOM 10-position Antenna Switch & Controller
ACOM 2S1 SO2R control box
de WØGJ
ACOM 2000A #1 has brand new tubes and was recently tuned up by KØGX. There are some minor scratches on the amplifier face but the remote control head is fine. I am the original owner. $4,000.
ACOM 2000A #2 I've had for many years and have used it very little. Very clean, full output. $4,000.
ACOM 10-position antenna switch and controller is a very hearty mil-spec system that follows the ACOM 2000A amp when it senses a new band. I am the original owner. $600.
ACOM 2S1 is an SO2R control box that controls a single ACOM 2000A amp with input from two transmitters. Original owner. Never used. $200.
I'm selling this equipment to get ready for the FlexRadio PowerGenius amplifier which will mate with the FlexRadio 6000 series I have now. Pictures available on request. I prefer pickup/delivery. Any shipping will be additional.
Contact:
WØGJ
Glenn Johnson
218-760-3663 (leave text or message if I don't answer)
Decorah, IA


---
For Sale
Elecraft K3/100
de NOØB

Elecraft K3/100 $2495. S/N 01480. 2008 Kit, 2009 upgrades, 2010 factory inspection and firmware upgrade. K3/100; KAT3 ATU Modulator kit; 2 KFL3A-500 Hz, 5 Pole filters (main/sub); MH2-R Hand Mic; Proset-K2-R, Heil Boomset Headset w/mic; 2 KBPF3A-F General Coverage RX Modules (main/sub); KDVR3 Digital Voice Recorder; KFL3A-6K-IR 6kHz, 8 pole filter (main); 2 KFL3B-FM-IR FM-bandwidth, 8-pole roofing filters (main/sub); KRX3-K 2nd RX Mod kit; KTCX03-1 TXCO 1ppm f/w correction to 0.5ppm; KXV3 Transverter interface.

PR6 6M Low Noise Pre-Amp $99.

Navigator digital modem by TimeWave (previously by US Interface) $199.

All lightly used, fully functional and no damage to my knowledge. Non-smoking environment. Excellent appearance. Reason for sale is these items are excess to my needs. All sales as is.

Contact:
NOØB
Jim Meade
jnmeade@southslope.net
319-330-5548 (leave text or message if I don't answer)

---