Eastern Iowa DX Association
Welcome to the Eastern Iowa DX Association web site! Our club is open to any amateur radio operator who is interested in DXing and/or contesting. You are cordially invited to attend club meetings and get aquainted. We have many friendly, outgoing members with varied areas of expertise, who would be delighted to meet you and offer their help as needed. (Detailed club information is on the "About EIDXA" page.)


---
EIDXA News
(Updated July 2, 2021)
EIDXA Meetings
A Zoom EIDXA meeting will be held on April 30, 2021. The Zoom room will be open by 6:30 and the business meeting will start as usual at 7:30 pm.
We have an interesting program lined up: Automate Your Station.
Have you ever considered automating your ham station? Even partial automation will help avoid equipment damage and unnecessary surprises. Don't miss our April 30th meeting when our own Dave Jaksa, WØVX, will present a program on station automation. Topics covered are reasons to automate, what/how to automate, and operating an automated station. Dave will illustrate this conversion with his own experience at WØVX.
Zoom meeting details will be sent out later, closer to the meeting date. Watch your email for it!

EIDXA in-person meetings are on hold indefinitely due to Covid 19 virus concerns. When this crisis is resolved, we will resume LA2USmeetings. Stay tuned!
We normally meet quarterly in January, April, July and October on a Friday evening. Our normal meeting location is the Hall Perrine Cancer Center at Mercy Medical Center in Cedar Rapids. The doors open at 6:30 p.m. and the meeting starts at 7:30 p.m. A program of interest follows the business meeting. Complete details, including an aerial photo map, may be found on the "Meetings" page.
July 2021 Eastern Iowa DXer
The July 2021 edition of the Eastern Iowa DXer is now available on the "Newsletter" page. Bob, WØGXA, has as usual put together a great newsletter, loaded with good information. Be sure you don't miss it!
Membership roster updated on November 16, 2020
The membership roster has been updated. Thanks to Mike, NA9Q, for updating the list! You can find the list on the "Members" page.
Buy-Sell-Trade Listings
There are several interesting listings of equipment for sale on the "Buy-Sell-Trade" page -- take a look!
EIDXA Email Reflector
The EIDXA email reflector is available for your use. To post to the reflector, email your message for the group to: eastern-iowa-dx-association@googlegroups.com
The reflector allows you to include photos or other files in your message.
You may visit the group homepage here:
https://groups.google.com/group/eastern-iowa-dx-association
The homepage has a complete archive of all messages exchanged via the group.
---
Craig Fastenow, KØCF, Editor
The bulletin was posted earlier than normal this week to accommodate RSGB IOTA Contest announcements.
This bulletin is a compilation of currently active DX operations (or those that will become active within the current week) from recent issues of the OPDX bulletin and other sources, with the dates of operation highlighted in red. The articles are ordered by the entity's official callsign prefix. Hot links are provided for QSL and other information wherever possible. Articles will remain in The Bulletin while active with a 5 week maximum. Credit for the source is given at the end of each article.
I am starting a new feature this week: A Weekly Solar Data chart. This chart plots propagation data for the past week, including Solar Flux Index (SFI), Sunspot number and Planetary K-Index. Since there are 8 K-index readings each day, I have chosen to plot the maximum and average K-index for each day. The chart appears at the bottom of the page just above Upcoming Contests.
DX News items are courtesy of:
The Ohio/Penn DX Bulletin (OPDX)
Tedd Mirgliotta, KB8NW, Editor (kb8nw@hotmail.com or kb8nw@arrl.net)
The bulletin is available at http://www.papays.com/opdx.html
The ARRL DX Bulletin
The bulletin is available at http://www.arrl.org/w1aw-bulletins-archive-dx

3D2, FIJI. As reported on FaceBook, operators Dom/3Z9DX, and his XYL Joanna (ex-3D2JK), are once again active from Nadi with new callsigns -- 3D2USU and 3D2FU, respectively, for the next two weeks. Activity will be on 160-10 meters using mainly FT8. Once again pictures have been posted on the Rebel DX Group's Facebook page at:
https://www.facebook.com/rebeldxgroup
-[OPDX # 1524 July 26, 2021] (0808)

3DA, KINGDOM OF ESWATINI. Hans, 3DAØAQ is QRV on 20 to 6 meters using CW. QSL via EA5GL.
-[ARRL DX Bulletin #25 June 24, 2021] (0801)
3YØI BOUVET ISLAND DXPEDITION (Update). The following was posted on the Rebel DX Group's Facebook page (https://www.facebook.com/rebeldxgroup) on July 20th [edited]: It's still on go. Everything is ready. Hope Covid and current crazy internal situation in South Africa will not disturb us to go this season.
-[OPDX # 1524 July 26, 2021] (0801)
5B, CYPRUS. Phil, GØFVM will be QRV as 5B4APP starting the end of June. He plans to start being active on 20 meters. QSL via operator's instructions.
-[ARRL DX Bulletin #25 June 24, 2021] (0801)
5H, TANZANIA. Sergey, UT8UU, will be active as 5H3UU from Dar Es Salaam, Tanzania, during the first half of August 2021. He does have permission to be active on most HF/VHF/UHF bands and modes but has not announced which ones he will be using. More details will be forthcoming. QSL via UT8UU, direct, by the Bureau, LoTW or eQSL.
-[OPDX # 1496 December 28, 2020] (0822)
6W, SENEGAL. Dani, EA4ATI, is once again active from Senegal, but signing as 6W1/EA4ATI until he receives a permanent 6W callsign (which may take 3 months). Activity will be on 80-10meters using mainly SSB. QSL via EA4R. Dani will try to upload his log to LoTW and eQSL.
-[OPDX # 1522 July 12, 2021] (0815)
9A, CROATIA. A group of operators will be QRV as 9AØCI from Vis Island, IOTA EU-016, in the RSGB IOTA contest (July 24-25th). QSL via bureau.
-[ARRL DX Bulletin # 29 July 22, 2021] (0801)
9V, SINGAPORE. Shuichi, JAØDKL is QRV as 9V1SH. Activity is on various HF bands. His length of stay is unknown. QSL via LoTW.
-[ARRL DX Bulletin # 26 July 1, 2021] (0808)
A4, OMAN. A group of operators are QRV as A44M from Masirah Island, IOTA AS-014, until July 27. They will be active as A43MI in the RSGB IOTA contest (July 24-25th). QSL via LoTW.
-[ARRL DX Bulletin # 29 July 22, 2021] (0801)
BY, CHINA. A large group of operators are QRV as BI4SSB from Kaishan Island, IOTA AS-135. Activity is on 40 to 6 meters using CW, SSB, and FT8. They will be active as B4T in the RSGB IOTA contest (July 24-25th). QSL via BA4TB.
-[ARRL DX Bulletin # 29 July 22, 2021] (0801)
C6, BAHAMAS. Operators Joe/W8GEX and his XYL Janet/W8CAA are now active as C6ADX and C6AYL from the Island of Exuma. Length of stay is not known. They are using an Icom IC-7300 with an Elecraft KPA500 amp into a 5 band TW fan dipole. Most activity is on FT8. QSL via direct with a SASE to their home callsigns listed on QRZ.com (NO IRCs) or LoTW. Please NO Bureau cards.
-[OPDX # 1524 July 26, 2021] (0808)
C6, BAHAMAS (Update/IOTA Op/Correction). It seems that three of the nine operators, who were expected to be active from Bimini Islands (NA-048, WW Loc. FL05), are on the air. Operators Richard/NN2T (C6AHB - SSB, FT4/8), Steven/WA8Y (C6AYW - CW) and Juan/AC6ZM (C6AZM - CW, FT4/8) continue to be active until July 21st. Activity will be on 160-6 meters using CW, SSB and FT8/FT4. QSL via eQSL, ClubLog's OQRS and LoTW.
-[OPDX # 1523 July 19, 2021] (0725]
CT3, MADEIRA. Tibor, OM3RM/CT9ABN, will be active as CR3DX from Porto Moniz, Madeira Island, during the RSGB IOTA Contest (July 24-25th) as a Single-Op/All-Band/High-Power entry. Activity outside of the contest will be on 80-10 meters using the callsign CT9ABN. QSL via OM2VL, direct or by the Bureau.
-[OPDX # 1524 July 26, 2021] (0801)
CU, AZORES. Jim, W6PQL will be QRV as CT8/W6PQL from Pico Island, IOTA EU-175, from July 25 to September 4. Activity will be on 40 to 15 meters using SSB and FT8, and EME and FT8 tropo on 2 meters. QSL direct to home call.
-[ARRL DX Bulletin # 28 July 15, 2021] (0829)
CX, URUGUAY (Special Event). Look for special event station CW6ØATS to be active between July 1st and December 31st, to celebrate the 60th anniversary of the Antarctic Treaty System (ATS). QSL via LoTW, eQSL and ClubLog's OQRS.
-[OPDX # 1521 June 28, 2021] (0801)
DXCC'S MOST WANTED (ClubLog). The "DXCC Most Wanted" entities list has been updated on ClubLog as of July 11th. The list contains 340 entities. The following are the top 26 entities:
1. P5 DPRK (North Korea) 14. KH4 Midway Island
2. 3Y/B Bouvet Island 15. ZS8 Prince Edward & Marion Islands
3. FT5/W Crozet Island 16. PYØS Saint Peter and Paul Rocks
4. BS7H Scarborough Reef 17. PYØT Trindade & Martim Vaz Islands
5. CEØX San Felix Islands 18. KP5 Desecheo Island
6. BV9P Pratas Island 19. SV/A Mount Athos
7. KH7K Kure Island 20. VP8S South Sandwich Islands
8. KH3 Johnston Island 21. KH5 Palmyra & Jarvis Islands
9. 3Y/P Peter 1 Island 22. ZL9 New Zealand Subantarctic Islands
10. FT5/X Kerguelen Island 23. EZ Turkmenistan
11. FT/G Glorioso Island 24. FK/C Chesterfield Island
12. VKØM Macquarie Island 25. YK Syria
13. YVØ Aves Island 26. JD/M Minami Torishima
There have been changes in the "Top 26" since we last reported back on June 11th. Syria (YK) and Chesterfield Island (FK/C) have change places: YK switching from 24th to 25th and FK/C switching from 25th to 24th. The complete "DXCC Most Wanted" entities list (340) is available at: https://secure.clublog.org/mostwanted.php
-[OPDX # 1522 July 12, 2021] (0815)
EA, SPAIN. Special event station AM1ASX is QRV until July 30 to mark the Jacobean Holy Year 2021. Activity is on the HF bands using SSB, FT8 and FT4. QSL via EA1IQM.
-[ARRL DX Bulletin # 28 July 15, 2021] (0801)
ES, ESTONIA. Yuris, YL2GM and Ziedonis, YL2GN are QRV as ES6JP/Ø and ES6TZ/Ø, respectively, from Hiiumaa Island, IOTA EU-034, until July 25. This includes being entries in the RSGB IOTA contest (July 24-25th). QSL to home calls.
-[ARRL DX Bulletin # 29 July 22, 2021] (0801)
F, FRANCE (Special Event). Members of the Radio Club du Val D'issole will activate TM21OG from Le Castellet, France, beginning July 23rd until August 8th. Activity is to celebrate this year's Olympic Games in Japan. Operations will be on 160-6 meters using CW, SSB, PSK, RTTY and FT8/FT4. QSL via F4GPB, direct, by the Bureau, eQSL, ClubLog's OQRS or LoTW.
-[OPDX # 1523 July 19, 2021] (0808)
F, FRANCE (Special Event). Operators Wil/F4ESV, Bernard/F5LPY and Phil/F8EFU will be active with the special callsign TM21MAB from July 22nd until August 3rd. Activity is during the Grand Est Mondial Air Ballons 2021 event (https://www.pilatre-de-rozier.com/lmab/) from Chambley Airport between July 23rd and August 1st. Their operations will be on 160-6 meters using CW, SSB and the Digital modes. A special QSL card will be printed for this SES (special event station). QSL via direct (No IRCs), ClubLog's OQRS, LoTW or by the Bureau (F5LPY). No eQSL.
-[OPDX # 1523 July 19, 2021] (0808)
F, FRANCE (Special Event). Members of the Walburg Stork Radio Club des Cigognes will be active with the special callsign TM25KAV from Walburg, France, during July and August 2021, to commemorate their 25th anniversary. Activity will be on various HF bands using CW and SSB. Scheduled dates are available on QRZ.com. A special QSL card will be available via the Bureau.
-[OPDX # 1522 July 12, 2021] (0815)
FS, SAINT MARTIN. Hal, W8HC, will be vacationing and operating as FS/W8HC from Falaise des Oiseaux, St. Martin Island (NA-105), beginning July 29th until August 6th. Activity will be on 40-6 meters using CW and FT8 with a Elecraft K3S running 100 watts. QSOs will be uploaded to LoTW.
-[OPDX # 1524 July 26, 2021] (0808)
GJ, GUERNSEY. Members of the Three A's Contest Group are QRV as MP5A from Alderney Island, IOTA EU-114, and will be a Multi Op entry in the RSGB IOTA contest (July 24-25th). QSL via G3TXF.
-[ARRL DX Bulletin # 29 July 22, 2021] (0801)
GM, SCOTLAND. Col, MMØNDX and Jonathan, MMØOKG are QRV as MSØINT from Horse Island, IOTA EU-092. They will be active as GM5DX in the RSGB IOTA contest (July 24-25th). QSL GM5DX via EB7DX and MSØINT via LoTW.
-[ARRL DX Bulletin # 29 July 22, 2021] (0801)
HC, ECUADOR (Also, HC8). YL Fer, HC1TFB, who lives in Quito, Ecuador, has been active on FT8 recently on 40/20/15/10 meters between 1830-0015z. She works for an airline company in Ecuador and is expected to be active occasionally from Galapagos Islands as HC1TFB/HC8. No QSNs yet on the DX Cluster and no specific dates. QSL via the address on QRZ.com.
-[OPDX # 1523 July 19, 2021] (0822)
HI, DOMINICAN REPUBLIC. Special event station HI95RCD is QRV until the end of 2021 to celebrate the 95th anniversary of the Dominican Radio Club. Activity is on 160 meters to 70 centimeters using CW, SSB, FM, and FT8. QSL direct to RW6HS.
-[ARRL DX Bulletin # 29 July 22, 2021] (0829)
HL, REPUBLIC OF KOREA. A group of operators are QRV as D7ØEXPO from Pukkyongnyolbi Island, IOTA AS-080. Activity is on 80 to 6 meters. This includes being an entry in the RSGB IOTA contest (July 24-25th). QSL via LoTW.
-[ARRL DX Bulletin # 29 July 22, 2021] (0801)
HP, PANAMA (Special Event). Operators Jose/HP2AT and Emilio/HP2NG are using the special callsigns 3F2ØØAT and 3F2ØØNG to celebrate the 200th anniversary of Panama independence from Spain (1821-2021). Activity actually started on June 1st but will end on November 30th. All QSOs will be uploaded to QRZ.com, Clublog, eQSL and LoTW. A special QSL card will be printed at the end of the activity. ClubLog's OQRS will be available at the end, so you can work him on several bands and modes and request the QSL card for all QSOs. It is strongly recommended for 100% safety to use the OQRS and PayPal payment to request the printed QSL card. Postal system is not safe; use it at your own risk. Some envelopes were received with the money taken and resealed.
-[OPDX # 1522 July 12, 2021] (0815)
I, ITALY. Station IF9A will be a 24 Hours/Assisted/CW/Low Power entry from Favignana Island, IOTA EU-054, in the RSGB IOTA contest (July 24-25th). QSL via IT9ATF.
-[ARRL DX Bulletin # 29 July 22, 2021] (0801)
I, ITALY. Special event station IIØLXXV is QRV until December 31 to celebrate the 75th anniversary of ARI Roma. QSL via bureau.
-[ARRL DX Bulletin # 26 July 1, 2021] (0808)
J2, DJIBOUTI (Update). Jeje, F8FKJ, will be active as J2ØEE from Djibouti City (WW Loc. LK11NN ) sometime during June-July (no specific dates announced yet). He informs OPDX that his activity will be on 20/18 meters using CW, SSB and FT8. Jeje states that he will "take a very small station that I can put it in my backpack." Equipment is a FT450d w/100w into antennas loop 21m (he is looking for a better antenna and more band). Updated QSL info is via F4DXW direct only. Watch QRZ.com for updates.
-[OPDX # 1521 June 28, 2021] (0801)
J8, ST. VINCENT. Brian, GW4DVB is QRV as J88PI from Palm Island, IOTA NA-025, until August 1. Activity is on the HF bands using SSB, FT8, and some CW. QSL direct to home call.
-[ARRL DX Bulletin # 29 July 22, 2021] (0801)
J8, ST. VINCENT. Brian, GW4DVB, will once again be active as J88PI from Palm Island (aka Prune Island, WW Loc. FK92HO, IOTA NA-025), in the St. Vincent and the Grenadines Island group, beginning July 24th until August 1st. Activity will be holiday style on 40/20/17/15/10/6 meters using CW, SSB, SSTV and FT8. He will use a Yaesu FT991A into a 10m vertical antenna, a MØCVO HW-40HP off center fed dipole and possibly new antennas. QSL via GW4DVB direct only (PayPal available) to: PO Box 20:20, Llanharan, Pontyclun, Wales - UK CF72 9ZA. For more details and updates, check: http://www.g4dvb.co.uk
ADDED NOTE: Palm Island is an exclusive, private-island resort. This idyllic tropical hideaway is situated near the southern tip of St. Vincent and the Grenadines, an idyllic archipelago of 32 tropical islands and cays known for its stunning natural beauty, clear, warm waters and turtles.
-[OPDX # 1522 July 12, 2021] (0801)
JA, JAPAN (Special Event). Members of the Sendai Tuning DX Club (JH7YES) will activate the special event callsign 8N7SPORT beginning July 1st until October 31st. Activity is a "Special Memorial Bureau -- To build physical strength outdoors and compete with the new Corona Train your body both physically and mentally 'Good luck Japan!!' -- Japan be strong -- It is a feeling to support." Operations will be on various HF bands but mainly 40 meters SSB. There are no digital (FT8) communication scheduled. QSL via the Bureau or direct. NO eQSL or LoTW. For more details, see QRZ.com or the Sendai Tuning DX Club Web page at: https://jh7yes.jimdosite.com
-[OPDX # 1521 June 28, 2021] (0801)
JWØW SVALBARD DXPEDITION NEWS (Update). Kenneth, LA7GIA, posted the following on FaceBook (https://www.facebook.com/groups/288876866220488), July 16th [edited]: "Guys are excited - dinghy landing with 30 x luggage, 300 l of fuel, 2 generators, 5 radios, 5 amplifiers, 2 tents, 2 huskies, food & drinks, enough ammunition, 2 rifles, enough warm clothes, personal beacon locator - just for fun at 78N! Prins Karls Forland island."
JUST A REMINDER: Activity by the JWØW 2021 team from Prins Karls Forland (EU-063) will take place between July 21st and July 26th. This will be a tent and generator trip into the Nature reserve west of Svalbard at 78N which requires a special permit and SAR insurance. The JWØW team consists of Allan/EA3HSO, Erwann/LB1QI, Gjermund/LA5GI, Kenneth/LA7GIA, Rune/LA7THA, Chris/LA8OM and Ronny (Security officer). Their main focus will be on 40/30/20m (all modes) - and of course also other bands if propagation allows. QSL via MØOXO's OQRS (direct and by the Bureau), and direct QSL. The log will also be uploaded on LoTW. Visit their Web site at: http://jw0w.no
-[OPDX # 1523 July 19, 2021] (0801)
K, UNITED STATES (Special Event). Members of the Ohio Valley Amateur Radio Club will be operating special event station K9G from the 58th annual "Steam and Gas Engine Show" at Thresherman's Park, Boonville, Indiana. The event will take place between Friday, July 23rd through Sunday, July 25th. QSL via KD9KEG. See more details on QRZ.com.
-[OPDX # 1524 July 26, 2021] (0801)
KL7, ALASKA. Henry, NLØH will be QRV from St. Lawrence Island, IOTA NA-040, in the RSGB IOTA contest (July 24-25th). QSL via MØOXO.
-[ARRL DX Bulletin # 29 July 22, 2021] (0801)
KL7, ALASKA. Jon, KL2A, has been fairly active from Anchorage (WW Loc. BP51), Alaska, on 30/20/17 meters CW between 0330 and 0730z. He states during the month of July he will be active on 160-6 meters using mainly CW (possibly FT8; when he figures it out) with a ICOM 7610 w/100 watts into a GP24 vertical dipole. QSL via: PO Box 924 Cda, Idaho 83816.
-[OPDX # 1522 July 12, 2021] (0801)
LZ, BULGARIA (Special Event). Members of the Bulgarian Radio Club Blagovestnik (LZ1KCP) continue their year long activity to honor the memory of Orthodox saints during July with the callsign LZ95ØTM. QSOs count towards the "All Saints - 2021" award and 10 points towards "St. Teodosii Tyrnovski" award. QSL via Bureau or direct to LZ1KCP. For more details about the awards and the Bulgarian Club Blagovestnik, see: http://www.lz1kcp.com
ADDED NOTE: Next special event station for August is LZ363ER.
-[OPDX # 1522 July 12, 2021] (0815)
OA, PERU. Alex, DD5ZZ, will be active as OA7/DD5ZZ from the Cusco region in Peru from July 30th until September 17th. Activity will be on various HF bands (40-10m) using SSB and FT8/FT4, maybe some CW, with High-Power into wire antennas. He mentions that he "might" use the callsign OA7/5P6G in the WAE CW/SSB (August 14-15th and September 11-12th) and the WW Digi DX (August 28-29th) Contests. QSL via DD5ZZ, ClubLog's OQRS or LoTW.
-[OPDX # 1521 June 28, 2021] (0829)
OE, AUSTRIA (Special Event). Alex, OE3DMA, has just received permission from the authorities to use the special callsign OE6ØANT beginning July 1st until December 31st. Activity is to celebrate the 60th anniversary of the Antarctic Treaty System (ATS). The WAP special reference for OE6ØANT has been issued as WAP-315. For more details about the special event, see the WAP Web page at: http://www.waponline.it
-[OPDX # 1518 May 31, 2021] (0801)
OE, AUSTRIA (Special Event). Look for the following special event callsign with the "OE12Ø" prefix to be on the air from July 1st until November 30th. Activity is to celebrate the 120th anniversary of Austria's Nobel Prize Laureates. The special callsigns are: OE12ØAGD (e), OE12ØBKC (Bureau via OEVSV), OE12ØDMT (via OE7DMT), OE12ØSGU, OE12ØTWA (via OE3TWA), OE12ØU, OE12ØWDR, OE12ØXFG, OE12ØXGM, OE12ØXKJ, OE12ØXDX, OE12ØXRC (via OE3CQB e/B) and OE12ØXYK. There will be 4 special awards available. Look for more details to be forthcoming.
-[OPDX # 1519 June 14, 2021] (0801)
OH, FINLAND. Ric, DL2VFR, will be active from a cottage on Lake Savonlinna (KP42NG), Finland, in the Saimaa region - the largest Lake District in Europe, between July 26-30th, using the special callsign OH73ELK (see QRZ.com or https://oh73elk.net/).
-[OPDX # 1524 July 26, 2021] (0801)
OY, FAROE ISLANDS. Carsten, OY1CT, will be QRV from Streymoy Island, IOTA EU-018, as a Single Op/CW/High Power entry in the RSGB IOTA contest (July 24-25th). Activity will be on 20 to 10 meters. QSL to home call.
-[ARRL DX Bulletin # 29 July 22, 2021] (0801)
PY, BRAZIL (Special Event). Mor, PT7ZT, is now active as ZV32ZT from Eusébio - Ceara until August 13th. Activity is to commemorate the 32nd Olympic Games of Tokyo, Japan. Operations will be on SSB and the Digital modes. QSL via PT7ZT, direct or LoTW.
-[OPDX # 1523 July 19, 2021] (0815)
S5, SLOVENIA (Special Event). Ziga, S55KZ, will be active as S553ØKZ begnning June 26th until December 31st, to celebrate 30 years of independence of the Republic of Slovenia. QSL via the Bureau or LoTW. Also, Look for Milos, S54G, to be active as S543ØG. QSL via S54G. ADDED NOTE (Reminder): Slovenian Amateur Radio Union will celebrate the country's 30 years of Independence by issuing a special award. It will be eligible to all amateur radio enthusiasts all over the World. For this event only, start- ing June 26th, 0000z and until December 31st, 2021, 2359z, the Slovenian amateur radio stations can use special callsigns with an added number "30" into the suffix. For example: S5ØZZ will be S5Ø3ØZZ, S51A will be S513ØA, S57XXX will be S573ØXXX etc..... For more details, see: http://lea.hamradio.si/scc/diploma_30let/index_eng.htm
-[OPDX # 1521 June 28, 2021] (0801)
SP, POLAND (Special Event). Members of the "Mysliborski Klub Lacznosci PZK (SP1PMY) have activated the special event callsign SN88LOT from Mysliborz, Poland, until August 31st. The station will commemorate 88nd anniversary of the flight over Atlantic Ocean by two Lithuanian pilots, Steponas Darius and Stasys Girenas, who flew from New York in a little airplane called "Lituanica" to Kaunas on 15th of July 1933. Their flight ended with catastrophe in a forest near the village of Pszczelnik (ca. 6 km from Myslibórz, West Pomeranian Voivodeship). There is a monument dedicated to those two brave airmen at the place where airplane fell. At this monument, every year, a celebrations take place with highest Polish and Lithuanian representatives. QSL via SP1PMY, direct or by the Bureau.
-[OPDX # 1522 July 12, 2021] (0815)
SP, POLAND. Special event stations 3Z198ØLL, HF198ØLL, SN198ØLL, SO198ØLL, SP198ØLL, SP198ØLS and SQ198ØLL are QRV until July 31 to commemorate the strike actions of 1980 in the Lublin region. Activity is on the HF bands. QSL via operators' instructions.
-[ARRL DX Bulletin # 26 July 1, 2021] (0801)
SV, GREECE. Spiros, SV8CS and Norbert, OM6NM will be QRV as SV8CS from Zante Island, IOTA EU-052, in the RSGB IOTA contest (July 24-25th). QSL via SV8CS. QSL via SV8CS.
-[ARRL DX Bulletin # 29 July 22, 2021] (0801)
SV/A, MOUNT ATHOS. Monk Iakovos, SV2RSG/A, showed up on 20 meters (around 14011 kHz) CW on July 22nd and 23rd, between 1542z and 1937z, and then later on 40 meters (around 7004 kHz) between 2115-0040z. His activity is expected to last until the end of the week (July 25th). It is also suggested to watch 40/30/20 meters CW/SSB. QSL via SV1RP.
-[OPDX # 1524 July 26, 2021] (0801)
SV9, CRETE. SV9RNG plans to be QRV from Crete, IOTA EU-015, in the RSGB IOTA contest (July 24-25th) as an All Band entry. QSL via LZ1YE.
-[ARRL DX Bulletin # 29 July 22, 2021] (0801)
TA, TURKEY. Alex, SQ9UM, is now active as TA4/SQ9UM from Finike, Turkey, until July 30th. Activity has been on 30/20/17/15/12 meters FT8. QSL via his home callsign.
-[OPDX # 1524 July 26, 2021] (0801)
TF, ICELAND. Laurent, HB9HKE, will be active as TF/HB9HKE from Iceland from July 22nd until August 7th. His main trip will be for Paramotoring (https://cdn-bio.qrz.com/e/tf_hb9hke/Laurent_Flying_in_Iceland_2.jpg), but operations will be on various HF bands using a LAB599 TX-500 w/10w, a DIY599 power amp (60W), and wire antenna for 20m. QSL via LoTW (preferred), but will also use QRZ.com and eQSL. ADDED NOTE: View Laurent's YouTube video (about 14 minutes long) called Paramotor Adventure Iceland 2020 reportage "Iceland from above" at:
https://www.youtube.com/watch?v=1TiMSEyWYeQ&t=14s
Also, visit his Web page at:
https://www.laurentegli.com
-[OPDX # 1523 July 19, 2021] (0808)
TG, GUATEMALA. Steve, K4IM, is currently active as TG9AWS from just outside of Guatemala City until August 15th. Activity is on 40-6 meters using CW, SSB and the Digital modes with an Elecraft K3 w/KPA500 amp into End-fed 40m antenna and a R8 vertical. QSL via W3HNK, direct, LoTW or ClubLog's OQRS.
-[OPDX # 1523 July 19, 2021] (0815)
UA, EUROPEAN RUSSIA (Special Event). Members of the "Fifth Ocean" Aviators HAM Club are active as R1Ø5MA to celebrate the 100th anniversary of the "Russian Naval Aviation." QSL via RN3YN. An electronic award is available. Details available at: http://www.aviaham.ru
-[OPDX # 1524 July 26, 2021] (0829)
UA, EUROPEAN RUSSIA. Special event call sign R1ØØKOMI is QRV until September 30 to celebrate the 100th anniversary of the Komi Republic, created on August 22, 1921, as an Autonomous Oblast. QSL via operators' instructions.
-[ARRL DX Bulletin # 26 July 1, 2021] (0808)
UA, EUROPEAN RUSSIA (Special Event). Look for special event station RG6ØANT to be active from July 1st until December 31st, to celebrate the 60th anniversary of the Antarctic Treaty System (ATS). Listen for QSL info.
-[OPDX # 1521 June 28, 2021] (0801)
UA9, ASIATIC RUSSIA. A group of operators are QRV as RIØFWA from Kunashir Island, IOTA AS-025, until July 29. This includes being an entry in the RSGB IOTA contest (July 24-25th). QSL via LoTW.
-[ARRL DX Bulletin # 29 July 22, 2021] (0801)
UA9, ASIATIC RUSSIA. A group of operators are QRV as RIØFM from Moneron Island, IOTA AS-149, until July 31. Activity is on the HF bands using CW, SSB and FT8 with two stations active. QSL via UA3A.
-[ARRL DX Bulletin # 28 July 15, 2021] (0801)
UT, UKRAINE (Special Event). Members of the Zaporizhia National University Club Station (UR4QWW; ex-UK5QBE/UB4QWW) will be active with the special callsign EM5ØQWW from Zaporizhia, Ukraine, to commemorate the 50th anniversary of their club station. Activity will be on various HF bands. QSL EM5ØQWW via the Bureau.
-[OPDX # 1524 July 26, 2021] (0829)
UT, UKRAINE (Special Event). Look for special event station EM6ØKTS to be active beginning July 1st until December 31st, to celebrate the 60th anniversary of the Antarctic Treaty System (ATS). QSL via IK2DUW and ClubLog's OQRS.
-[OPDX # 1521 June 28, 2021] (0801)
YB, INDONESIA (Special Event). To celebrate the 53rd anniversary of the Organisasa Amatir Radio Indonesia (ORARI) and ORARI Lokal Bogor, look for the special callsign 8B53BG to be active on the air. Length of activity was not mentioned. QSL via address on QRZ.com.
-[OPDX # 1522 July 12, 2021] (0815)
YJ, VANUATU. Rod, YJ8RN is QRV from Emae Island, IOTA OC-111, until July 27. Activity is on 40, 30, and 20 meters using mostly FT8. This includes being an entry in the RSGB IOTA contest (July 24-25th). QSL via NZ4DX.
-[ARRL DX Bulletin # 29 July 22, 2021] (0801)
YN, NICARAGUA. Rafael, NN3RP, is now active as YN2RP until August 15th. Activity could be from Granada, Somoto or San Juan del Sur. Operations will be on various HF bands (40/20/10m) and possibly some satellites using CW, SSB and FT8 with a FT-857D radio. QSL via NN3RP direct, eQSL or LoTW. No ClubLog.
-[OPDX # 1523 July 19, 2021] (0815)
YV, VENEZUELA. Mayra, YV7MAY plans to be QRV from Margarita Island, IOTA SA-012, in the RSGB IOTA contest (July 24-25th). QSL to home call.
-[ARRL DX Bulletin # 29 July 22, 2021] (0801)
ZC4, UK BASE AREAS ON CYPRUS. Phil, M7CBK/2EØVYG, is now active as ZC4CBK from Akrotiri, Cyprus SBA (WW Loc. KM64LN). He states, "I will be operating this callsign on a regular basis until October '21, and from there again on future visits to this beautiful island. My main interests are HF Digital Modes, and I will be primarily operating FT4 and FT8 modes on 20m using my Icom IC-705, this feeds a homebrew dipole via a SOTABeams 1:1 balun. I plan to also get up and running on 2m to allow me to use the RV48 (FM) and RV51 (DStar) repeaters in the Troodos Mountains." QSL via EB7DX.
-[OPDX # 1523 July 19, 2021] (0822)
ZD7, ST. HELENA (Update). Gerry, G3WIP (VKØGB, VK4BGL, VP8DPD), continues to be active as ZD7GB from the main village of Jamestown on St. Helena Island (AF-022). It has been reported that he will be working as a doctor on the island until September 30th. Activity will be during his free/spare time on 40-10 meters using SSB and FT8/FT4. Gerry also brought his QO-100 satellite gear with him. His equipment is a FT857 and Atlas-210. Antennas are a vertical that tunes on 20 meters as well as a longwire. QSL details are not figured out yet.
-[OPDX # 1522 July 12, 2021] (0815)

Weekly Solar Data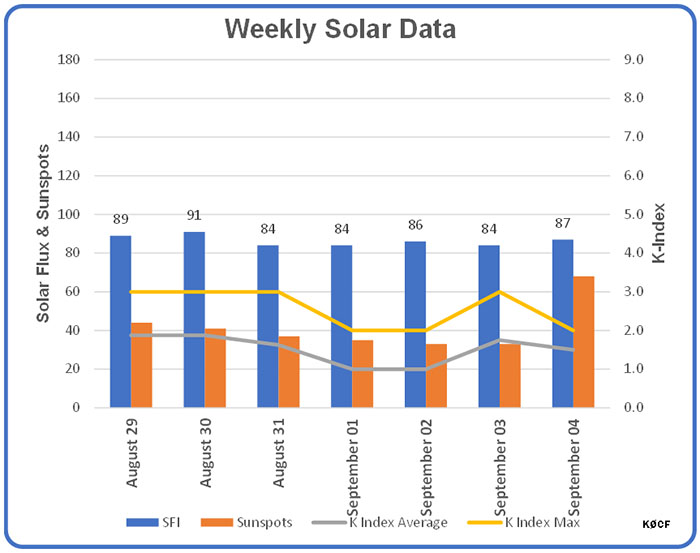 Selected Upcoming Contests
Start
End
Contest
Web Site
Jul 24
1200Z
Jul 25
1200Z
RSGB IOTA Contest
Rules
Jul 31
1400Z
Aug 1
0400Z
Missouri QSO Party
Rules
Aug 1
1400Z
Aug 1
2000Z
Missouri QSO Party
Rules
Aug 1
1400Z
Aug 1
1700Z
SARL HF Phone Contest
Rules
Aug 7
0001Z
Aug 8
2359Z
10-10 Int. Summer Contest, SSB
Rules
Aug 7
1800Z
Aug 8
0559Z
North American QSO Party, CW
Rules
Aug 14
0000Z
Aug 15
2359Z
WAE DX Contest, CW
Rules
Aug 14
1400Z
Aug 14
2200Z
Kentucky State Parks on the Air
Rules
Aug 14
1400Z
Aug 15
0400Z
Maryland-DC QSO Party
Rules
Aug 21
0000Z
Aug 21
0800Z
SARTG WW RTTY Contest
Rules
Aug 21
1600Z
Aug 21
2400Z
SARTG WW RTTY Contest
Rules
Aug 22
0800Z
Aug 22
1600Z
SARTG WW RTTY Contest
Rules
Aug 21
1600Z
Aug 22
0400Z
Ohio QSO Party
Rules
Aug 21
1800Z
Aug 22
0559Z
North American QSO Party, SSB
Rules
Aug 22
1800Z
Aug 22
2359Z
ARRL Rookie Roundup, RTTY
Rules