Eastern Iowa DX Association
Welcome to the Eastern Iowa DX Association web site! Our club is open to any amateur radio operator who is interested in DXing and/or contesting. You are cordially invited to attend club meetings and get aquainted. We have many friendly, outgoing members with varied areas of expertise, who would be delighted to meet you and offer their help as needed. (Detailed club information is on the "About EIDXA" page.)


---
EIDXA News
(Updated November 12, 2017)
EIDXA January 2018 Meeting
The next EIDXA meeting will be held on Friday, January 19, 2018 at our new meeting location, the Hall-Perrine Cancer Center at Mercy Medical Center in Cedar Rapids. Complete details, including an aerial photo map, may be found on the "Meetings" page.
January 2018 Eastern Iowa DXer
The January 2018 edition of the Eastern Iowa DXer is now available on the "Newsletter" page. Bob, WØGXA, has as usual put together a great newsletter, loaded with good information. Be sure you don't miss it!
Buy-Sell-Trade New Listings
There are a bunch of new listings on the "Buy-Sell-Trade" page. Some really nice stuff for sale -- take a look!
New EIDXA Email Reflector
The new reflector is now on line. To post to the new reflector, email your message for the group to: eastern-iowa-dx-association@googlegroups.com
You may visit the group homepage here:
https://groups.google.com/group/eastern-iowa-dx-association
The group homepage has a complete archive of all messages exchanged via the group. This new reflector allows us to forward photos or other files to the group. Nice!
3YØZ Certificate of Appreciation
EIDXA has received a certificate of appreciation from the 3YØZ Bouvet Island DXpedition in recognition of our financial support of this forthcoming operation. Current plans are to be on the air in early 2018.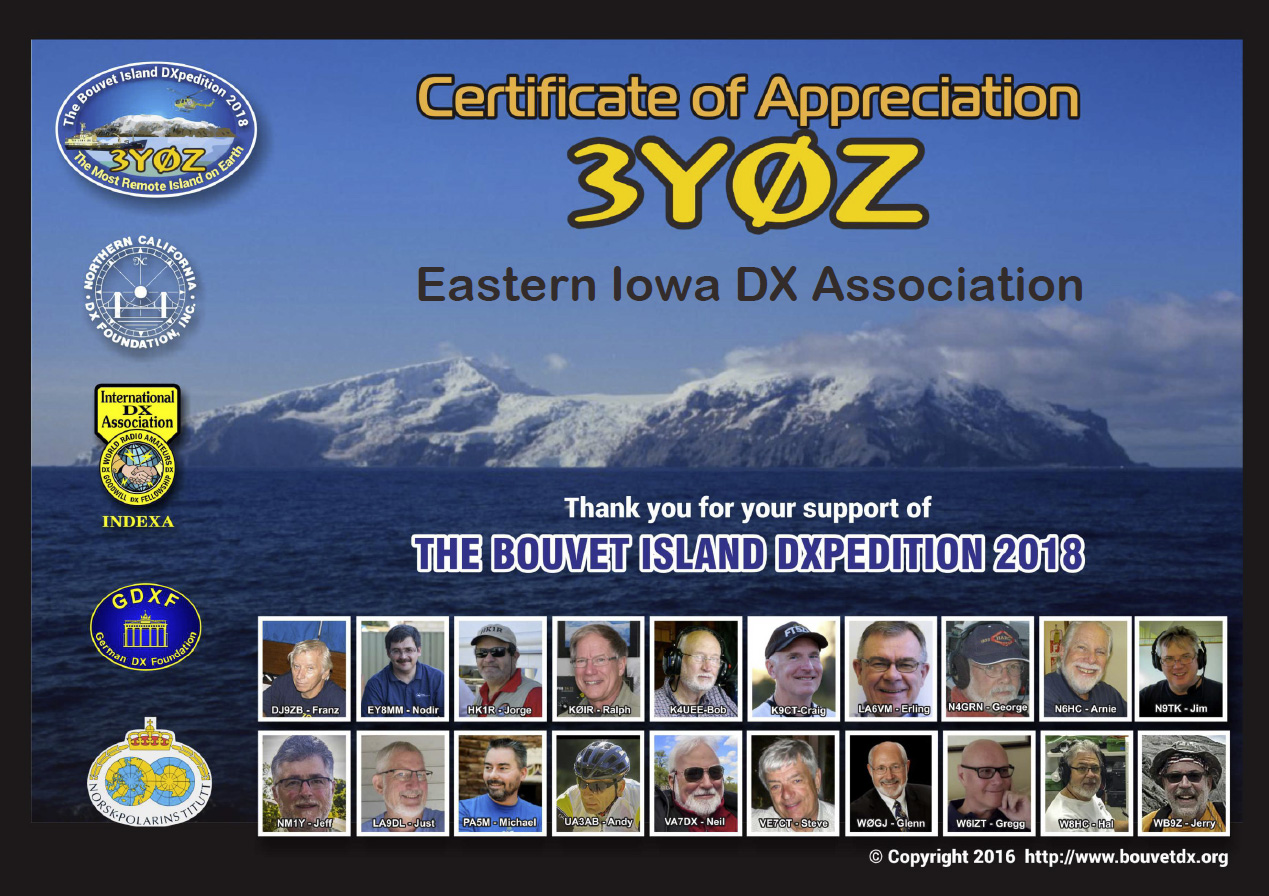 Please click on this image to see the full-size certificate. You may also wish to visit the Bouvet Island DXpedition web site. The EIDXA logo is on the "Sponsors" page.
---
DX News (Updated February 11, 2018)
DX News items, unless otherwise noted, are courtesy of:
The Ohio/Penn DX Bulletin (OPDX)
Tedd Mirgliotta, KB8NW, Editor (kb8nw@barf80.nshore.org)
For subscription info, please see http://hamnet.org/mailman/listinfo/opdx
This list is a compilation of current DX operations (or those that start within the current week) from recent DX bulletins, with the dates of operation highlighted in red. The items appear in order of callsign prefix. Hot links are provided for QSL information wherever possible. Credit for the source is given at the end of each item.

3B7A ST. BRANDON ISLAND DXPEDITION NEWS (Press Release #5) [edited]. An updated most wanted list has been published on ClubLog. It now shows Saint Brandon as the 27th most wanted entity worldwide (#19 NA, #17 SA, #33 AS, #28 OC, #34 AF, #48 EU). This statistic clearly confirms the relevance of our DXpedition, we knew the demand to be high more than 10 years after 3B7C. (EIDXA ed. Note: Expedition scheduled for April 5 to 17, 2018.)
Same as with our previous projects, we know a flawless preparation is the key of the success. We are now working carefully on propagation forecast. Of course, our experience of this area is a big advantage, we know some specifics tips, possible openings, etc. This forecast will drive our operations from the first to the very last day, giving priority to the area with the shortest and most difficult conditions.
We would like to thank our pilot team: Bjorn/ON9CFG, Paul/N6PSE, Javi/LU5FF, Joe/JJ3PRT, and our "chief pilot" Michel/F6AGM (ex-FM5CD). Please share your experience and all interesting information with your local pilot during the expedition. We will be in touch with them on a daily basis thanks to our satellite phone.
The pilots will NOT have access to the logs! Questions related to your QSOs should be submitted to our QSL manager through the online form on our website. Do not expect answer until we are back in France. We would like to take advantage of this communication to wish good luck to our 3YØZ friends on the way to Bouvet.
Please keep on supporting our project on our website <http://www.saintbrandondx.com/en/how-to-help-us/> and follow us on Facebook <https://www.facebook.com/SaintBrandonDX/> and Twitter <@SaintBrandonDX>
-[OPDX # 1348 January 21, 2018]
3W, VIETNAM. William "BJ", WA7WJR, will once again be active as XV9WJR from Bien Hoa until February 14th. BJ last reported, "I travel to Vietnam about 4 times each year, and obtained a 3 year license to operate in Bien Hoa, Saigon, Vung Tao, and Phu Quoc Island." Activity will be mainly on 40 and 20 meters using primarily CW. Suggested frequencies are: 7 MHz - 7.1 MHz (40 meters) and 14 MHz - 14.350 MHz (20 meters) - primarily 14.028 and 14.014. QSL via his home callsign direct. He will upload his log to LoTW on his return home. For more details, updates and pictures, see QRZ.com.
-[OPDX # 1350 February 5, 2018]
3W, VIETNAM. Charles, WØDLE, will be active as 3W9DLE from Saigon for 90 days between February and April. Activity will be mainly 20 meters using CW, SSB and FT8, as well as entries in the ARRL International CW DX Contest (February 17-18th) and Russian DX CW Contest (March 17-18th). QSL via WØDLE.
-[OPDX # 1348 January 21, 2018]
3YØI BOUVET DXPEDITION NEWS (Rebooted DXpedition). According to the Web page <https://bouvetoya.org/>, operators Dominik/3Z9DX, Stanislaw/SQ8X, Leszek/SP3DOI, Branko/YU4DX and Frans/J69DS have rebooted their plans to activate Bouvet Island. They state, "Our trip originally planned at the end of 2017 was canceled at the request of the organizers of the 3YØZ expedition. Due to the cancellation by the organizers, we are now returning to the implementation of our project and preparations for our trip as a matter of urgency." No dates are mentioned on the Web page, but "DX-WORLD.net" states that they "received info from a Norwegian contact that the 3YØI license has been renewed. A landing permit has also been issued by the Norwegian Polar Institute. No dates of activity are mentioned, but the permit is good until February 2019. However, DX-World contact suggests activity could be sometime this year." The expedition plans are as follows per the Web page:
How? -- For the purposes of the expedition, a 24-m-high seagoing yacht with a PowerSail sails and 2 engines of 250 HP was chartered. The unit is adapted to move in extreme weather conditions. During the stay on the island, before the bad weather, we will be protected by proper construction of expedition tents.
Where? -- Our expedition will start in South Africa, from where we will sail to the Bouvet Island. We will cover over 2,800 nautical miles in the far South Atlantic. It's over 5200 km! After landing on Bouvet Island, we will install a camp and shortwave radio on the glacier plateau (it covers 93% of the island's surface. In good weather, we will get Olavtoppen - the highest peak of the island rising 760m above sea level.
When? -- Our expedition will take place during the sub-Antarctic summer in the Southern Hemisphere. A sea journey in stormy conditions will take about 12 days one way. If the weather is favorable for us, we will spend about two weeks on the island. With successful winds, the expedition plan will close in about a month and a half.
Stay tuned for further details...
-[OPDX # 1351 February 12, 2018]

3YØZ BOUVET DXPEDITION NEWS (From 3YØZ Web page). On February 5th, the captain of the MV Betanzos decided that it was the best interest of safety and expediency to proceed directly to Capetown, South Africa, rather than Punta Arenas, Chile. They also headed north to avoid the possibility of encountering ice and then headed easterly toward Capetown. The entire team was reported safe resting in their bunks and in good spirits.
It was reported on Thursday, February 8th, at 2045 UTC: 49.32 degrees South, 6.73 degrees East. 1,058 nautical miles from Capetown. We are continuing our slow voyage to Capetown, currently making 6 knots, with one of our two engines out. The team is healthy, with plenty of food and water, and working to keep our spirits up. We cannot, however, escape the cloud of disappointment hovering over us and the DX community. We traveled 2700 nautical miles to Bouvet, but the last mile proved to be the most difficult.
As we type this, a tugboat is on its way to assist our vessel to the port of Capetown. We will continue to keep everyone informed, as this saga plays out. We would like to thank all of our friends and families who have been with us every mile of the way. Your good wishes, thoughts and prayers have sustained us over the last three weeks.
Ralph, KØIR
Bob, K4UEE
Erling, LA6VM
ADDED NOTES: Remember to visit the team's media pages (Twitter, Facebook) as well as their Web page to read updates, see pictures and videos of their trip:
3YØZ Web page: http://www.bouvetdx.org/news-and-updates
3YØZ FaceBook: https://www.facebook.com/groups/639362206232014
3YØZ Twitter : https://twitter.com/Bouvet_3Y0Z
Also remember to follow their voyage by watching the following URL link:
https://share.garmin.com/bouvet
-[OPDX # 1351 February 12, 2018]
5W, SAMOA. Dick, AD7AF, will be active as 5WØLR from Savaii Lagoon Resort on Samoa Island (OC-097) between now and February 22nd. Activity will be on 40-15 meters (perhaps 80m; if he can get the inverted L high enough) using mainly CW and FT8, maybe SSB. He also plans to be in the ARRL International DX CW Contest (February 17-18th). Dick will have 100 watts into a vertical and inverted L on the beach. QSL via AD7AF direct, ClubLog's OQRS (he will try to upload log occasionally during his stay) or LoTW (after his return home).
-[OPDX # 1350 February 5, 2018]
5W, SAMOA. To celebrate his 20th anniversary for being on the air, look for Atsu, 5W1SA, to be active as 5W2ØSAMOA throughout 2018 on HF and 6 meters. He has been on Samoa (OC-097) since 1998 and has logged approximately 100K QSOs. QSL via LoTW (preferred), eQSL after confirming LoTW or ClubLog's OQRS. Atsu states (about paper QSLs), "After 20 years operating and living in Samoa, there is not enough budget available for QSL card printing. If anyone offers me part of cost or actual printed card, please contact myself or my QSL manager JA1DXA (Katsu) for arrangement."
-[OPDX # 1346 January 8, 2018]
6Y, JAMAICA. By the time you read this, Edmondo, VA3ITA, will be active as VA3ITA/6Y5, from Montego Bay, Jamaica (NA-097), until February 13th. Activity will be on 40-2 meters using CW, SSB and the Digital modes. QSL via VA3ITA.
-[OPDX # 1351 February 12, 2018]
6Y, JAMAICA. Yuri, VE3DZ, will once again be active as 6Y2T from Jamaica (NA-097) between February 13-20th. Activity will include the ARRL International DX CW Contest (February 17-18th) as a Single-Op/All-Band/ High-Power entry. Operations outside of the contest will be on 160-10 meters, including the 30/17/12 meter bands and using CW, SSB and RTTY. QSL via VE3DZ.
-[OPDX # 1346 January 8, 2018]
7Q, MALAWI. John, N6JW, is now (since January 4th) active as 7Q7JW. Length of his stay is not known at this time. Activity has been on 40/20 meters SSB. QSL via his home callsign.
-[OPDX # 1347 January 15, 2018]
9X, RWANDA (Unusual Callsign). By the time you read this, Christian, MØUPL, will be active using the unusual callsigns 9XSDA from Kigali, Rwanda, until February 18th. The suffix "SDA" stands for "Seventh Day Adventist Church". Activity will be on 40 and 20 meters using mainly SSB. QSL via MØUPL direct to: Cristian Panaitescu, 131 Stafford Road, CR0 4NN, Croydon, United Kingdom.
-[OPDX # 1351 February 12, 2018]
BV, TIAWAN. Steven, VK2HSL, reports that between February 16-18th, operators Randson/BV2DQ, Terry/BU2CC, James/BV2EL and himself (BW/VK2HWL) will be celebrating the Chinese New Year by activating Taiwan (IOTA AS-020) and using the callsign BW/VK2HSL. Expect holiday style operations around 2pm-8pm Taiwan time on 40, 20 and 15 meters using SSB and CW. 10 and 6 meters available by request. Frequencies announced by DX spots and VK2HSL QRZ page. QSL via VK2HSL.
-[OPDX # 1350 February 5, 2018]

C5, THE GAMBIA. The callsign, C5DX, will be used during the 2018 Sandringham School Amateur Radio Club DXpedition between February 9-16th, 2018, as part of a school trip to the Gambia. They are taking 18 students (six former) and 3 staff including Alan, G4DJX, to return to Farafenni Senior Secondary High School. This is their 10th year in collaboration and visiting the school. Alan will operate CW and four licensed students from Sandringham School Amateur Radio Club (MØSCY) who are also on the trip will operate SSB - Jessica (M6LPJ), Polly (M6POG), Morgan (M6MXD) and Stan (M6SQO). It will be their first DXpedition, and they will be learning how to operate from a semi-rare country, so please bear this in mind and be patient with them as they learn the craft of DX operating. Remember the DX code of conduct. They will be running 400W using a K3, KPA500 and KAT500 into a multi-band dipole (the new Aerial-51 Model 807 ultra-light OCF Dipole) kindly donated by Aerial-51. SpiderBeam have also in part sponsored this DXpedition with a 12m SpiderPole and associated equipment. SSB will most likely be on HF, while Alan will operate HF and also experiment with some LF bands depending on conditions and antennas. QSL via LoTW, direct to G4DJX and possibly ClubLog's OQRS.
-[OPDX # 1345 December 25, 2017]
CE9, ANTARCTICA. Matthias, DH5CW, will be active as DPØGVN from the German Neumayer Station III (AN-016, WWFF DLFF-022, WW Loc. IB59UH) between mid-February 2018 to mid-February 2019. Activity will be on various HF bands during his spare time. QSL via DL5EBE.
-[OPDX # 1347 January 15, 2018]
CE9, ANTARCTICA. Nikolai, RW6ACM, is currently active as RI1ANA from the Molodezhnaya Base Station (WAP RUS-08, IOTA AN-016) until sometime in February. Activity will be limited to his spare time on all HF bands using CW, SSB and the Digital modes. QSL via RN1ON, direct, by the Bureau, LoTW or ClubLog's OQRS.
-[OPDX # 1346 January 8, 2018]
CN, MOROCCO. Operators Manfred/DK1BT, Wolf/DL4WK, Sigi/DL7DF and Frank/ DL7UFR will be active as CN2DF and CN2FR from Tahazout between February 13-20th. Activity will be on 160-10 meters using CW, SSB, RTTY and PSK31, with two stations on the air. Pilot for this DXpedition is Bernd, DF3CB. QSL via DL7DF, direct, by the Bureau or LoTW (within 6 months after the DXpedition). For more details and updates, see: http://www.dl7df.com/cn
-[OPDX # 1346 January 8, 2018]
CO, CUBA. Members of the Las Tunas Contest Crew, T48K, will be active during the ARRL International DX CW Contest (February 17-18th) as a Multi-2 entry. Look for some early operations starting February 13th. Operators mentioned are Carlos/CX7CO/SMØKCO, Goran/SMØDRD/Goran/SM5SIC, Alex/CO8KA and Raúl/CO8ZZ. QSL via DK1WI.
-[OPDX # 1351 February 12, 2018]
CR2/CT8, AZORES. Hermann, HB9CRV, will be active as CU8FN from Flores Island (EU-089) between January 22nd and February 16th. Activity will be on 160-10 meters using mainly FT8. Antonio, CU8AS, will join Hermann to participate in the CQWW 160 Meter CW Contest (January 26-28th) as CR2W. QSL CR2W and CU8FN via LoTW, or via HB9CRV, direct or by the Bureau.
-[OPDX # 1348 January 21, 2018]
CR3, MADEIRA. Members of the Slovak Contest Group (OM8A Contest Team) will be active as CR3DX from Madeira Island during the ARRL International DX CW Contest (February 17-18th) as a Multi-2 entry. QSL via OM2VL, direct or by the Bureau. Operators mentioned are Jozef/OM3GI and Tibor/OM3RM.
-[OPDX # 1350 February 5, 2018]
D4, CAPE VERDE (Update). Henning, OZ1BII, will once again be active as D44EE from Praia Santa Maria (HK84fw), Santiago Island (AF-005), between February 15-20th. His main focus will be to participate in the ARRL International DX CW Contest (February 17-18th) as a Single-Op/All-Band/Low-Power entry. Look for activity before and after the contest on 160-10 meters CW only using a Elecraft K3 w/100 watts into (antennas kindly offered by Angelo, D44BS) a TA-33 (30/17/12m), 2 element 40m beam and 110 ft Long Wire (160/80m). He will be operating from Angelo's, D44BS/D4A station. QSL via his home callsign, direct or by the Bureau, also, via LoTW, eQSL and ClubLog's OQRS. For more details and updates, watch: http://www.oz1bii.dk/dx-d44ee.htm
-[OPDX # 1350 February 5, 2018]
DXCC'S MOST WANTED (ClubLog). The "DXCC Most Wanted" entities list has been updated on ClubLog as of February 7th. The list contains 340 entities and the top 10 entities seems to have changed with the addition of Kosovo:
1. P5 DPRK (North Korea) 6. KH1 Baker Howland Islands
2. 3Y/B Bouvet Island 7. BS7H Scarborough Reef
3. FT5/W Crozet Island 8. BV9P Pratas Island
4. Z6 Republic of Kosovo 9. KH7K Kure Island
5. CEØX San Felix Islands 10. KH3 Johnston Island
The complete "DXCC Most Wanted" entities list is available at: https://secure.clublog.org/mostwanted.php
-[OPDX # 1351 February 12, 2018]
ES, ESTONIA (Special Event). Look for 15 special event stations to be active until March 31st, using the prefix ES1ØØ to celebrate the 100th anniversary of Republic of Estonia. Special stations to be aired are ES1ØØA, ES1ØØC, ES1ØØF, ES1ØØG, ES1ØØJ, ES1ØØL, ES1ØØM, ES1ØØO, ES1ØØP, ES1ØØQ, ES1ØØR, ES1ØØS, ES1ØØU, ES1ØØX and ES1ØØZ. Activity will be on 160-10 meters using CW, SSB and the Digital modes. They will use two online QSL platforms – LoTW and eQSL. All paper QSL card requests must be done before May 31st. Requests made after June 1st, will be replied to if QSL cards are still available. QSLs via the Bureau are done by registering your callsign on the following Web page below. PLEASE NOTE – They don't need your QSL cards. Three different awards are also available (Bronze, Silver, Gold). For more details, info on the awards and pictures of the QSLs, visit: http://es100.eu
-[OPDX # 1350 February 5, 2018]
F, FRANCE (Special Event). Look for special event station TM15AAW to be on air during February. Activity is to celebrate the 15th Antarctic Activity Week (AAW) (February 17-25th). Operations will be made by François, F8DVD, from his QTH of Mâcon, in the east part of France, 60 km North of Lyon. The new reference number for the WAP (Worldwide Antarctic Program) program is 285. Activity will be on 40-10 meters using mostly SSB. QSL via F8DVD, direct (SAE + 2 USDs) or via the Bureau. For more details on TM15AAW, see QRZ.com <http://www.qrz.com/db/TM15AAW> or contact François at: a.pole@laposte.net For more information on the WAP, see: http://www.waponline.it
-[OPDX # 1346 January 8, 2018]
FG/TO7, GUADELOUPE. Jean-Pierre, F6ITD, will once again be active as FG/F6ITD from Guadeloupe and one of its islands between January 29th and March 15th. Island mentioned is La Desirade Island (IOTA NA-102, Lighthouse GUA005 and French Flora Faune FFF 1000). Activity will be on all HF bands (160-6m) using CW, SSB and the Digital modes. Look for him to use the callsign TO7D during some contests. Radio equipment is a FT-450D + Tokyo 550 Power 500w. QSL via his home callsign, direct or LoTW (preferred). Logs will be uploaded to ClubLog and LoTW.
-[OPDX # 1347 January 15, 2018]
FK, NEW CALEDONIA. Operator Arnaud, JG1XMV, will once again be active as FK/JG1XMV from Grande Terre (OC-032) between February 17th and March 3rd. During this time he will be joined by Yves/FK4RD and the two operators will active two other islands [Lifou (OC-033) and Mare (OC-033)] as FK/JG1XMV. Exact schedule for Lifou and Mare will be provided later on QRZ.com under FK/JG1XMV. He intends to stay 3-4 days on each island, but the exact timing has not been decided as it is typhoon season and they will be weather-dependent. Operating conditions will most likely be a vertical with 100w or less. Arnaud will be working SSB mostly between 40-15 meters. Given what the HF conditions are at the moment, they will do their best but are not expecting fabulous conditions. Hopefully, they will get some interested stations throughout Asia and Asia Pacific. Maybe they will get lucky via LP towards Europe as well. NA tends to be a bit touch-and-go depending on where they operate from, but fingers crossed, they hope for a few QSOs in the log. Arnaud may try to activate a few SOTAs, but since his time on Grande Terre will be limited and since he will be traveling with his family, he thinks that at this stage the probability is fairly low. QSL via JG1XMV, direct, by the Bureau or by FK/JG1XMV via LoTW or eQSL.
-[OPDX # 1351 February 12, 2018]
FT8 OPERATING GUIDE. Gary, ZL2IFB, has written an "FT8 Operating Guide" to help his fellow HF DXers make good use of the new digital mode. http://www.g4ifb.com/FT8_Hinson_tips_for_HF_DXers.pdf
-[OPDX # 1348 January 21, 2018]
FY, FRENCH GUIANA. Herve, F5HRY, will once again be active as TO1A during the ARRL International DX CW Contest (February 17-18th) as a Single-Op/ Single-Band (15m)/High-Power entry. He states this operation is REMOTE. QSL via his home callsign or LoTW.
-[OPDX # 1350 February 5, 2018]
GD, ISLE OF MAN. Operators Billy/GMØOBX, Jonathan/MMØOKG and Stevie/MMØVPY will be active as MTØIXD from Scarlett Tower (situated on the south west coast <http://www.scarlettpoint.im>) on the Isle of Man, near to Castletown, between February 9-12th. Activity will mainly be during the CQWW WPX RTTY Contest (February 10-11th), but there will be CW and SSB. QSL via MØOXO.
-[OPDX # 1349 January 29, 2018]
HR, HONDURAS. Gerard, F2JD, will once again be active as HR5/F2JD from Copan Ruinas, Honduras, between February 15th and May 10th. Activity will be on various HF bands using CW, SSB and RTTY. QSL via F6AJA, direct or via the French REF Bureau. The log will be posted on: http://lesnouvellesdx.fr/voirlogs.php
-[OPDX # 1346 January 8, 2018]
ISØ, SARDINIA. Simone, ISØAFM, is active with the special callsign IRØFOC from Cagliari until December 31st. Activity is to celebrate the 80th anniversary of the "First Class CW Operators' Club" (FOC). A special award will be issued in May, for valid contacts for that award for only those worked between May 1-31st, 2018. QSL via LoTW or direct to ISØAFM.
-[OPDX # 1350 February 5, 2018]
J5, GUINEA BISSAU. Livio, IZ3BUR, will be active as J52EC from the Cumura High School in Guinea Bissau between January 24th and February 21st. Activity will be mainly on 20/15/10 meters. QSL via IZ3BUR. PLEASE NOTE: This project is part of "Books for the high school of Cumura" by Father Gianfranco, J52OFM. For info see: http://www.padregianfranco.org Any donation will be greatly appreciated, it'll be donated to the Cumura Mission.
-[OPDX # 1344 December 18, 2017]
J6, ST. LUCIA. Chuck, KG9N, will be active as J6/KG9N from St. Lucia Island (NA-108) between February 13-27th. Activity will be on various HF bands including the ARRL International DX CW Contest (February 17-18th). QSL via his home callsign.
-[OPDX # 1349 January 29, 2018]

KH1/KH7Z BAKER ISLAND DXPEDITION NEWS (Press Release by Don/N1DG, dated January 16th). The Dateline DX Association is pleased to announce major equipment support from Elecraft, DX Engineering, and SteppIR Communications Systems for its KH1/KH7Z Baker Island 2018 DXpedition. For the KH1/KH7Z operation, Elecraft will supply the highly reliable K3S transceivers and their matching KPA500 amplifiers. These radios are veterans of several highly successful major DXpeditions and will greatly aid our goal of many ATNO contacts.
Our use permit for access to the Baker National Wildlife Refuge restricts the type and height of antennas we can use for KH1/KH7Z. SteppIR Communications Systems is working with team member George Wallner, AA7JV, with antennas that are acceptable to the U.S. Fish and Wildlife Service.
Every operation of this size needs a large number of critical equipment items suitable for island operation. DX Engineering has stepped up to offer those items on an as needed basis. DX Engineering continues to support major DXpeditions, and is a quality supplier of everything needed for the Amateur Radio community.
KH1 is the 4th most wanted entity. Our plans are to bring the KH1 entity to as many operators, and countries as we can. Support from these equipment vendors is appreciated and helps us meet our QSO goals. As with any DXpedition to the really rare ones, this will be another large budget operation. The operator team will contribute over 50% of the expected budget of $400,000. You can help make this DXpedition happen by visiting our website, and contributing today.
http://www.baker2018.net/pages/donate.html
Thank you in advance for your support.
The Baker Island 2018 Team
-[OPDX # 1348 January 21, 2018]
KH2, GUAM. Operators Toshinobu/JI3ERV and Mikawa/JR7OMD will once again be active as AH2R during the ARRL International DX CW Contest (February 17-18th) as a Multi-? entry. QSL via LoTW.
-[OPDX # 1351 February 12, 2018]
KH6, HAWAII. David, OK6DJ, will be active as KH6/OK6DJ from Oahu Island (OC-019) between February 14-21st. Activity will be on 40/30/20 meters using CW and the Digital modes. He will also be on during the ARRL International DX CW Contest (February 17-18th). QSL via home call, LoTW, ClubLog's OQRS or eQSL. QSL direct to: David Beran, Dolni Kamenice 55, Holysov 34562, Czech Republic. Please do not send QSLs to OK6DJ via the Bureau. Use the OQRS to request your "one-way" Bureau QSL. Bureau QSLs are so much faster "one-way" with OQRS. All QSOs will be uploaded to LoTW and eQSL 6 months after the DXpedition.
-[OPDX # 1351 February 12, 2018]
LY, LITHUANIA (Special Event). As of February 1st, special event stations with different LY1ØØ callsigns (LY1ØØA-LY1ØØZ), have been active and will be active until February 28th, to celebrate the 100th anniversary of Lithuania's independence. The LY1ØØV station was active this past weekend during the CQWW WPX RTTY Contest. QSL LY1ØØV via the Bureau or direct, eQSL and LoTW. Special PDF diplomas will be issued for amateur radio operators who will work at least 10 commemorative special callsigns from the range of LY1ØØA-LY1ØØZ. To collect the electronic diploma, please send a free-form e-mail to <hq@lrmd.lt> with the callsign which is eligible for the award. Printed diplomas might be available upon request. Additionally, special commemorative souvenirs from the Seimas of Lithuania will be available for the most active stations for the highest number of QSOs with different LY1ØØ callsigns in different bands and modes. Five different stations from LY, Europe and world will be eligible for this award. For more details, see QRZ.com.
-[OPDX # 1351 February 12, 2018]
OA, PERU. Dave, WJ2O, will be active as OA4/WJ2O from Peru between February 13-21st. Activity will include the ARRL International DX CW Contest (February 17-18th) as a Single-Op/All-Bands/Low-Power entry. Operations outside of the contest will be on the 30/17/12 meters. QSL via LoTW.
-[OPDX # 1346 January 8, 2018]
P4, ARUBA. Operators Bruce/AA5B, Steven/AA7V, Ray/K9RS and Art/N3DXX will be active as P4ØE from Aruba Island (SA-036) during the ARRL International DX CW Contest (February 17-18th) as a Multi-Single entry. QSL via K9QVB or LoTW. ADDED NOTE: P4ØE is a re-issued callsign. It was used by José Nunes, CT1BOH, in 2002. QSL via W3HNK or LoTW.
-[OPDX # 1351 February 12, 2018]
PACIFIC TOUR. Gerhard, OE3GEA, has started a two-month Pacific tour on February 4th, and has already visited Viti Levu Island (OC-016), Fiji (3D2GE), and Tonga (A31GE) this past week. He is expected to be active as ZL/OE3GEA in New Zealand between February 14-20th. The rest of his schedule is as follows:
February 21-24th -- Rarotonga, South Cook Islands; signing as E51GEA
February 25th-March 10th -- Society Islands, French Polynesia; signing as FO/OE3GEA
March 11-20th -- Hilo and Honolulu, Hawaii; signing as KH6/OE3GEA
Activity will be holiday style on 30-10 meters (possibly 40/6m). QSL via OE3GEA, direct or by the Bureau.
-[OPDX # 1351 February 12, 2018]
PJ2, CURACAO. Thilo, DL9NBJ, will once again be active as PJ2/DL9NBJ from Westpunt, Curacao (SA-099), between February 13-28th. Using an Elecraft KX3 with a KXPA100 100 watt PA into vertical wire dipole, 12m fiberglass pole and a ZS6BKW. Look for him on the HF bands operating CW and SSB. QSL only via ClubLog's OQRS. He states, "Please no SASE and no cards via Bureau. I don't need your cards, I will put it into trash can."
-[OPDX # 1351 February 12, 2018]

PJ4, BONAIRE. John, K4BAI, will once again be active as PJ4/K4BAI from the "PJ4G Radio House" on Bonaire (SA-006, WLOTA LH-1279) between February 11-23rd. Look for him to join the PJ4A team (Scott/NE9U, Ron/KK9K and Noah/K2NG) during the ARRL International DX CW Contest (February 17-18th) as a Multi-2 entry. QSL PJ4A and PJ4/K4BAI via K4BAI. ADDED NOTE: Usually the team operators will all be active as PJ4/homecall before and after the contest.
-[OPDX # 1350 February 5, 2018]
PJ4, BONAIRE. Operators Noah/K2NG, John/K4BAI, Ron/KK9K and Scott/NE9U will be active as PJ4A from the "PJ4G Radio House" on Bonaire (SA-006, WLOTA LH-1279) during the ARRL Inter. DX CW Contest (February 17-18th) as a Multi-? entry. QSL via NE9U, direct, by the Bureau or LoTW. Check out the "PJ4G Radio House" at: http://www.pj4g.com
-[OPDX # 1347 January 15, 2018]
T8, PALAU. Will, AA4NC, will be active as T8NC from Palau during the ARRL International DX CW Contest (February 17-18th) as a Single-Op/All-Band/Low-Power entry. QSL via AA4NC.
-[OPDX # 1351 February 12, 2018]
TI, COSTA RICA. Nate, N4YDU, will once again be active as TI7W from the Guanacaste Province during the ARRL International DX CW Contest (February 17-18th) as a Single-Op/All-Band/High-Power entry. QSL via W4FS or LoTW. Also, look for him to sign as TI7/N4YDU prior to the contest.
-[OPDX # 1346 January 8, 2018]
V2, ANTIGUA. Paul, VA3ZC, will be active as V26PE from Jolly Harbour, Antigua (NA-100), between February 13-27th. Activity will be on 40/30/20 meters using mainly FT8 and JT65, with possibly some SSB. Equipment will be a Yaesu FT-857d into an EARCHI End Fed antenna. QSL via VA3ZC.
-[OPDX # 1349 January 29, 2018]
V3, BELIZE. Operators Robert/K5PI (V31AT), Leigh/WCØT, John/WCØW (V31TP) Stephen/WWØG & XYL Nancie/NMØC, and Karl/ADØKH will compete in the ARRL International DX CW Contest (February 17-18th) as a Multi-Single entry from Cahal Pech Village in Western Belize. They will use V3T for the contest callsign. QSL via WCØW or LoTW (no ClubLog). Look for operations before and after the contest by the operators. They will mostly focus on CW and on the 30/17/12 meter bands. QSL to their home callsigns or possibly LoTW.
-[OPDX # 1351 February 12, 2018]

V3, BELIZE. Operators Torsten/DG7RO and Alexandra/DO5ALX are once again active as V31TF and V31RU, respectively, until February 25th. Activity will be on various HF bands using SSB, RTTY, and some FT8. They were active this past weekend during the CQWW WPX RTTY Contest but will also be in the ARRL International DX CW (February 17-18th) and CQ WW 160m SSB (February 23-25th) contests. QSL for both callsign via their home callsigns, direct, by the Bureau, ClubLog's OQRS or LoTW.
-[OPDX # 1351 February 12, 2018]
V3, BELIZE. Operators Victor/WBØTEV and Scott/KK7JS will be active as V31VP and V31CQ, respectively, from Blackman Eddy between February 8-12th. Activity will be on 80-10 meters. This will include participation in the CQWW WPX RTTY Contest (February 10-11th) as a Multi-Single entry signing V31VP. QSL V31VP via WBØTEV, direct or by the Bureau. QSL V31CQ via KK7S, direct, by the Bureau, eQSL, ClubLog's OQRS or LoTW.
-[OPDX # 1350 February 5, 2018]
V3, BELIZE. Paul, VE3AXT, is once again active as V31AX in the northern part of the country, Consejo Shores, Corozal, until April 4th. His rig is an IC-7000 with 100 watts into a G5RV dipole. QSL via MØURX and OQRS. Bureau QSLs are via OQRS ONLY at <http://m0urx.com/oqrs>. Please do not send YOUR QSL card via the Bureau. For more info and pictures, see his V31AX QRZ.com Web page.
-[OPDX # 1346 January 8, 2018]
V3, BELIZE. Art, NN7A, will be active as V31JZ/p from South Water Caye, Belize (NA-180), between February 8-14th. This will be a one-person operation using a 100-watt transceiver and wire antennas. Operation will be mostly CW on 160-10 meters including the 30/17/12m bands. Online log will be available. QSL via ClubLog's OQRS, direct via NN7A (Art Phillips, P.O. Box 73, Eckert, CO 81418 USA), or to NN7A via the ARRL Bureau. Bureau cards sent to Belize cannot be answered (there is no active V3 bureau).
-[OPDX # 1346 January 8, 2018]
V4, ST. KITTS. After Bernie, W3UR (V47UR), operates from here between January 29th and February 12th (see OPDX.1342), look for John, W5JON, to once again be active as V47JA between February 13th and March 16th. Activity will be on 160-6 meters (incl. 60m) using SSB. Equipment is a Yaesu FT-1000MP and Elecraft KPA500 Amplifier. Antennas: a 31', 10-40m Vertical, 35', 40/80m Top Loaded Vertical, 20m dipole, 160m base load vertical and a 6m 4 element Yagi. ALL QSLs go to W5JON direct or via LoTW. NO Bureau QSLs.
-[OPDX # 1347 January 15, 2018]
V5, NAMIBIA. Rudi, DK7PE, will be active as V5/DK7PE from Namibia by the end of January. The length of his stay is unknown. Activity will be on various HF bands but with a focus on 160/60 meters as well as the CQWW DX 160m Contest (January 27-29th). QSL via his home callsign direct or by the Bureau.
-[OPDX # 1346 January 8, 2018]
VK, AUSTRALIA. Chris, VK3FY, reports that after many years of non-activity, the VK3HF (South Pacific Contest Club) will be getting on air for the ARRL International DX CW Contest (February 17-18th) as a Multi-2 entry. Look for operations to be on 40-10 meters. QSL via LoTW or MØOXO.
-[OPDX # 1349 January 29, 2018]
VK, AUSTRALIA (Special Event). Look for Lee, VK3GK, to be active as VI7ØHI, a special callsign issued to commemorate the first ANARE Expedition to Heard Island in December 1947, until February 28th, and he will also be in the 15th Antarctic Activity Week (February 17-25th). Activity will be on all HF bands, 160-10 meters, using CW, SSB, RTTY and possibly the Digital modes. PLEASE NOTE: This activity is from mainland Australia (OC-001) and NOT from Heard Island. The VI7ØHI has a WAP reference number of WAP-288 and it can be used for the WAP Awards. A special commemorative QSL card will be available after completion of the activation via MØOXO direct, MØOXO's OQRS or LoTW. For more details, see QRZ.com.
-[OPDX # 1346 January 8, 2018]
VP2M, MONTSERRAT. George, K5KG, will be active as VP2MKG from Gingerbread Hill, Montserrat (NA-103), between February 14-27th. Activity will be on various HF bands (watch the WARC bands, and low bands) using CW and SSB. He plans to be in the ARRL International DX CW (February 17-18th) and CQWW 160 SSB (February 23-25th) Contests. In the ARRL CW, he will be with Charles/K1XX, Doug/K1DG and John/K1QX, and will be using a special callsign VP2M??. QSL via K5KG or LoTW.
-[OPDX # 1350 February 5, 2018]
VP6D DUCIE ISLAND DXPEDITION NEWS (Press Release #2, dated February 8th). [edited] VP6D Ducie Island 2018 DX-pedition (OC-182). Joining the team is Vadym, UT6UD. An active DXpeditioner, he has operated as H44UD, A35UD, S21XV, FO/UT6UD from Austral and Marquesas Islands, FG/UT6UD. He was a member of the 2016 VKØEK DX-pedition to Heard Island. Many will recognize Vadym from his 160 activity.
We're happy to announce that 6-meter EME was added to the project. With planning support from Lance, W7GJ, and the 6-meter community, we hope to make the first ever 6m EME QSOs from Ducie Island.
We're working with several amateur radio equipment manufacturers and suppliers who indicated interest in supporting VP6D. Onboard already are Arlan Communications for RadioSport headsets, DX-Engineering for antenna and other supplies and GM0OBX Custom Cables offered their support. We're in the process of formalizing agreements with other manufacturers.
The logistics plan is coming together. Our equipment will be consolidated in Fremont, California, for testing, packaging and shipment to the Braveheart in New Zealand. The team has a group reservation for our flight transportation from Papeete to Mangareva and back. Braveheart will pick us up in Mangareva and return us there at the end of the expedition
Detailed antenna plans are coming together nicely with 2-element vertical dipole arrays on the high bands backed up by a couple of horizontal beams, 4-squares on 30 / 40 meters and verticals on 80 / 160 meters. The 160 receiving antenna plans are under development.
With the cost of DX-peditions to remote islands increasing each year, we kicked off our fund-raising campaign with a generous grant from the Northern California DX Foundation, quickly followed by other DX clubs and foundations. We appreciate the individuals who are supporting the project with their donations. A current list of all donors is available at: http://vp6d.com/
VP6/D continues to be ranked in the top 25 Most Wanted, now at #21.
73, Team Ducie – 2018
Website: http://vp6d.com/, Twitter and Facebook
Please direct questions to: info@vp6d.com
-[OPDX # 1351 February 12, 2018]
VP8/H, SOUTH SHETLANDS ISLANDS (Special Event). Alex, UA1OJL/RI1ANO, will be active with the special callsign, RI5ØANO, from King George Island (AN-010) between January 1st and March 31st. The special callsign is to commemorate the 50th Anniversary of the Bellingshausen station. Activity will be limited to his spare time and on various HF bands using CW, SSB and the Digital modes. QSL via RN1ON direct, by the Bureau, ClubLog's OQRS or LoTW. ADDED NOTE: A special diploma is planned...
-[OPDX # 1342 December 4, 2017]
VP9, BERMUDA. Kurt, W6PH, will once again be active as VP9/W6PH for the ARRL International DX CW Contest (February 17-18th) as a Single-Op/All- Band/Low-Power entry. He will be on the island between February 15-19th. QSL only direct to his home callsign W6PH.
-[OPDX # 1350 February 5, 2018]
VQ9, CHAGOS ISLANDS. Jim, ND9M/VQ9JC, is once again active with a special callsign, VQ92ØJC. Watch for his activity on 17 meters using mainly CW. QSL via his home callsign.
-[OPDX # 1346 January 8, 2018]
VYØ, CANADA (Zone 2). Operators Alexey/VE1RUS and Pierre/VE3KTB will once again activate the Eureka Weather station and Eureka Amateur Radio Club [probably the most northerly located amateur radio club in the world] from Eureka, Nunavut (NA-008), as VYØERC sometime between February 4th and April 1st. Suggested bands are 40 and 20 meters using SSB, the Digital modes and very slow CW. Activity will be limited to their spare time. QSL via MØOXO's OQRS or direct to MØOXO.
-[OPDX # 1348 January 21, 2018]
WWII PACIFIC ISLANDS TOUR. Operators Will/AA4NC and Ron/AA4VK will be make stops at six islands that were significant in America's battles in the Pacific in World War II between February 13th and March 7th. Stops include, Oahu, Palau, Peleliu, Saipan, Tinian, and Guam and include visits to battle fields and war memorials, in addition to Radio operations from T8, KHØ, KH2, and KH6. Their tentative schedule is as follows:
February 14-19th -- Palau Island (T8); Will/AA4NC will sign T8NC and Ron/AA4VK will sign T8VK; activity will be holiday style using SSB, CW and RTTY; on 160-10 meters; AA4NC will also operate in the ARRL International DX CW Contest as T8NC
February 20-25th -- Saipan (KHØ); signing KHØ/AA4NC and KHØ/AA4VK; activity will be holiday style using SSB, CW and RTTY; on 160-10 meters
February 25-28th -- Guam (KH2); signing KH2/AA4NC and KH2/AA4VK; activity will be holiday style using SSB, CW and RTTY; on 160-10 meters
March 1-8th -- Hawaii (KH6); Randy, N0TG, will join AA4NC and AA4VK in KH6 for a radio reunion (for past operations KP1, KP5, CY9, and CY0); activity will be holiday style using SSB, CW and RTTY; on 160-10 meters; Also, AA4NC will operate in the ARRL International DX SSB Contest at KH6LC
QSLs for all operations are by each operator's home callsigns.....
-[OPDX # 1351 February 12, 2018]
XU7, CAMBODIA. Andrea "Andy", IK7YTT, will be active as XU7YTT from Cambodia between February 9-14th. Activity will be on various HF bands. QSL via IW7EGQ.
-[OPDX # 1351 February 12, 2018]
XX9B MACAO DXPEDITION NEWS (dated February 10th). [edited] Claudio, PY2MC, informs that Sarath, VU3RSB, has joined the team that will operate XX9B Macau in March 2018. For more details, refer to OPDX.1349/1350 or visit the XX9B Web page at: http://xx9b.py2sex.com
-[OPDX # 1351 February 12, 2018]
YS, EL SALVADOR. Markus, HB9KNA, is now active as YS1/HB9KNA from La Libertad (WW Loc. EK53hl) until May 2018. He moved there in early December and is waiting for his permanent residence papers so that he can apply for his YS callsign. Activity will be on 160-6 meters using SSB. Currently, there is NOT a QSL route (no Bureau, no e-QSL or LoTW).
-[OPDX # 1346 January 8, 2018]
Z6, KOSOVO. DXCC newest entity continues to be very active on the bands to celebrate its entry on the DXCC list and celebrating Kosovo's 10th anniversary of independence (February, 2008). Look for Z6ØA to be in the ARRL International DX CW Contest (February 17-18th). As this was being written, ClubLog shows (as of 1549z, February 10th) that Z6ØA has made a total of 64795 QSOs with 22525 unique callsigns: 38119/CW, 21107/SSB and 5569/RTTY. The breakdown by continent is: 477/AF, 6537/AS, 43950/EU, 12975/NA, 278/OC and 578/SA. QSL via OH2BH.
ENHANCED QSL SERVICE FOR Z6ØA OPERATION NOW UNDERWAY. ClubLog's OQRS system is set to cover the cost of direct QSL postage - USDs 3.00, while also allowing voluntarily, private contributions. All donations small or large are most welcome to support SHRAK, the Kosovo Amateur Radio Association to aid in recruiting additional Kosovar youth and to activate the existing Amateur Radio operators and support their activities.
As many have requested confirmations during the ongoing activation, it has been decided to do an immediate LoTW and fast direct QSL service for those who contribute USDs 20.00 or more. This option would not delay any of the traditional QSL options, but just put a priority on those who are willing to help Kosovo Amateur Radio finally move beyond the past ten difficult years.
If you wish to upgrade your earlier QSL request to this enhanced service you can send your donation through the ClugLog: https://secure.clublog.org/make_donation.php?call=Z60A
On behalf of the Project Goodwill Kosovo,
Martti Laine, OH2BH
-[OPDX # 1351 February 12, 2018]
ZD8, ASCENSION ISLAND. Andy, MØHLT, is now active as ZD8AC from Georgetown for the next two years. Activity will be limited to his spare time. He hopes to be on the air Saturday afternoons on 20 or 15 meters on/near the RSGB IOTA frequencies. He will be using his TS-50 and a Spider beam (40-10m). QSL via eQSL.
-[OPDX # 1346 January 8, 2018]
ZF2, CAYMAN ISLAND (Satellites, Grids, HF). Adrian, AA5UK, will once again be operating as ZF2AE from Grand Cayman (between March 1-4th) and ZF2AE/ZF8 from Little Cayman (between March 5-10). Activity will be holiday style (usually) on 40-10 meters using a IC-7300 and vertical antenna. Operations will be focused on the Digital modes (FT8, RTTY, PSK and other digital modes upon request) with possibly some SSB, and the satellites using 2x FT-817s and Arrow Antenna for satellite. Most of his activity will be in the afternoons and evenings. For the latest operational updates, watch his Twitter links <@AA5UK and @ ZF2AE>. QSL direct to AA5UK with a SAE/SASE, LoTW or eQSL.
-[OPDX # 1351 February 12, 2018]
ZF, CAYMAN ISLANDS. Operators Dan/N6MJ, John/K6AM and Tim/N6WIN will be active as ZF1A on Grand Cayman Islands (NA-016) during the ARRL International DX CW Contest (February 17-18th) as a Multi-Single entry. Look for activity outside of the contest on 160-10 meters including 30/17/12 meters. QSL via K6AM, direct, by the Bureau or LoTW.
-[OPDX # 1349 January 29, 2018]
---
Older Items
3W, VIETNAM. Dirk, DF2XG, is now active as 3W9XG from Hai Phong. Length of his stay is unknown at this time. He is there working as a project manager for an industrial project in Quang Ngai. He states that he may be relocated to the Quang Ngai Province at beginning of 2018. Activity will be on 40-10 meters using a FT-991 (with a key) into a random wire running only 20 watts. He was heard this past week on 20 meters CW around 1115z. QSL via info on QRZ.com.
-[OPDX # 1343 December 11, 2017]
4S, SRI LANKA. Peter, DCØKK, is once again active as 4S7KKG from Moragalla, Sri Lanka (AS-003, WLOTA 0762) between November 1st and March 25th. Activity will be mainly on CW and the Digital modes with operation on 20-10 meters. QSL via DCØKK, by the Bureau (preferred) or direct (see QRZ.com). LoTW on request. All QSLs for all QSOs will be sent via the QSL Bureau.
-[OPDX # 1334 October 9, 2017]
4S, SRI LANKA. Takayuki, JI1SHQ, has reportedly moved to Sri Lanka (AS-003) at the end of June, and will be active as 4S7TNG for the next several years. He is preparing his antenna and will soon be able to be on the air. Activity will be mainly on 30 and 20 meters using mainly CW. His station is an Icom IC-706MK2G transceiver (50w) into a V-type Dipole, using two mobile whips; its height is approx. 60m. QSL via JI1SHQ by the Bureau.
-[OPDX # 1340 November 20, 2017]
5R, MADAGASCAR. Marco, ON8XB, is once again active as 5R8XB from Madagascar (AF-013). The length of his stay is unknown at this time. Most of his activities have been on 20 meters SSB. QSL via his home callsign.
-[OPDX # 1342 December 4, 2017]

5V, TOGO. John, N9MDH, will be active as 5V1JE from Lomé until end of May 2018, more or less. Activity will be on 80-10 meters (he likes the 30m band) using SSB and the Digital modes. He will use an Icom IC-7300 transceiver into a Gap Titan antenna. QSL via eQSL or LoTW.
-[OPDX # 1340 November 20, 2017]
5Z4, KENYA. Nick, LZ4NM, will now be active 5Z4/LZ4NM from Kenya until June 30th, 2018. Activity will be on 40-10 meters using CW, SSB and the Digital modes. He was active this past weekend's IARU HF Contest as 5Z4NM. Currently, his equipment is an Icom IC-7000, Inverted Vee (40/20m) and a DunaX vertical (20-10m). QSL direct to: Amateur Radio Society of Kenya (ARSK), Box 45681, Nairobi, 00100, Kenya.
-[OPDX # 1321 July 10, 2017]

6W, SENEGAL (Update). Ronald, VE3REV, recently moved to Dakar in August 2016, and is expected to be active as 6W1SU for the next 2 to 3 years. Activity will be on 80-6 meters, and he is currently operating SSB only, but hoping to tackle CW later. His station has a new Yaesu FT DX 1200 with a Yaesu FL1200Z Amp into a MA5B three element Yagi, a 6M 6JXXJ 6 element Yagi and dipoles for 40/80m. Dave, VE9CB, announced this past week he will be active as 6W1SU in the CQWW DX CW Contest (November 25-26th) as a Single-Op/All-Band/High-Power entry. No other details were provided. QSL 6W1SU via MØURX direct or the OQRS (direct or by the Bureau).
-[OPDX # 1329 September 4, 2017]
9X, RWANDA. Peter, HB9DVG, is now active as 9X9PJ (and possibly later as 9X9PJ/P) from Kigali during the next two years. Activity will be on 20-10 meters using SSB. His equipment is an Elecraft KX3 transceiver with a HLA 300 amp into a Buddipole Vertical. QSL via his home callsign direct or eQSL.
-[OPDX # 1333 October 2, 2017]
9X, RWANDA. Alan, KE4TA, will be active as 9XØTA from Kigali for a 3-year period beginning sometime in early August. This will be his first 'DXpedition'. Activity will be primarily on 20/17 meters using 600W/100W of power. He does have antennas or antenna-tuner combinations for 80-10 meters and 6m. Modes will be SSB, the Digital modes and some CW. Power may be restricted by the Rwandan authorities in accordance with their laws. Radio is a Yaesu FT-991, and antenna will be a hexbeam on a push up tower. Alan, states, "Noise levels here are extremely high. Please don't be offended if I'm not answering your call, I likely can't hear you." QSL via DIRECT to N4GNR. He will also use LoTW. For more details, pictures and updates (maybe even an operating schedule), visit his Web page at:
http://www.rwandadx.com
-[OPDX # 1324 July 31, 2017]
EA8, CANARY ISLANDS. Rieder, HB9FIH, will once again be active as EA8/HB9FIH from El Hierro Island (AF-004) [is the smallest and farthest south and west of the Canary Islands] between December 12th and the end of March 2018. Activity will be 80-10 meters (possibly 6m) using 100 watts, and mainly on CW, RTTY, PSK and some SSB. When he operates portable (SOTA HI-001), activity will be on 40/30/20 meters using CW. QSL via LoTW, eQSL or by the Bureau.
-[OPDX # 1343 December 11, 2017]
EI, IRELAND (Special Event). Look for special event station, EI5ØAOM, to be active between January and March 2018. Activity is to remember the 50th anniversary and tragic event/crash of the Aer Lingus Viscount airliner and to honor the 61 lives lost. It still represents the largest single loss of life in Irish civil aviation history. The station will devote one day beginning January 22nd to remember each of the four crew and 57 passengers who died with operations culminating on the 50th anniversary of the crash, March 24th, 2018. QSL via EI2KA, direct with 2 USDs and self-addressed envelope or via the Bureau. Log will be uploaded periodically to LoTW for non-paper confirmations. For more information see: http://www.qrz.com/db/EI50AOM
-[OPDX # 1345 December 25, 2017]
JW, SVALBARD. Erik, LA2US, will once again be active as JW2US from Bear Island (IOTA EU-027) for the next 6 months starting in early December. Activity will be limited to his spare time and he will operate on various HF Bands mostly CW at the lower band edges and IOTA frequencies. Also, on this trip he will be on BPSK, FT8 and RTTY. Equipment is a FT-450D, Signalink USB, Expert 1K-FA and a OCFD antenna. QSL via ClubLog's OQRS, LoTW or eQSL.
-[OPDX # 1339 November 13, 2017]
JW, SVALBARD. Morten, LA4JSA, will be active as JW4JSA, from Bear Island [Bjørnøya] (EU-027), until June 1st, 2018. He is there on a work assignment. Activity will be on various HF bands. QSL via his home callsign.
-[OPDX # 1343 December 11, 2017]
RI1, FRANZ JOSEF LAND. Eugene, UA4RX, is now active as UA4RX/1 from Heiss Island until possibly August 2018. He wanted to renew his RI1FJ callsign, but word has it that he ran into a snag and will continue to use UA4RX/1 until the licensing problem is corrected. Activity will be on 160-10 meters using CW, SSB and the Digital modes. QSL via UA2FM direct or use ClubLog's OQRS or LoTW.
-[OPDX # 1329 September 4, 2017]
VP8/H, SOUTH SHETLAND ISLANDS. Alexander, UA1OJL, will be active as RI1ANO from the Bellingshausen Base Station (WAP RUS-01) on King George Island (AN-010) between April 2017 and April 2018. Activity will be on various HF bands using CW, SSB and the Digital modes. QSL via RN1ON, ClubLog's OQRS or LoTW.
-[OPDX # 1304 February 13, 2017]
ZL7, CHATHAM ISLANDS. Operators Chris/ZL2DX and XYL Catherine/ZL2QT will be active as ZL7DX and ZL7QT, respectively, from Chatham Islands (OC-038) sometime in May for the next 3 years or longer. Activity will be on various HF bands plus 6m EME. QSL direct to: Chris Hannagan, Waitangi, Chatham Islands 8013, New Zealand.
-[OPDX # 1308 March 13, 2017]